Metropolitan Foot Care began in 2001 with a single practice. Today we are 5 locations and are able to serve a much larger patient base in an expanded area including both Brooklyn and Queens. If you are looking for a highly trained and experienced podiatrist in New York you have come to the right place. At our practice, you will receive the highest quality podiatric care. We know that many people may feel anxious about coming to the doctor, so it is our goal to make your visit with us as anxiety free as possible. We view it as our mission to educate our patients about their treatment options and to help guide them to choose a treatment plan that is most suitable and appropriate for their needs.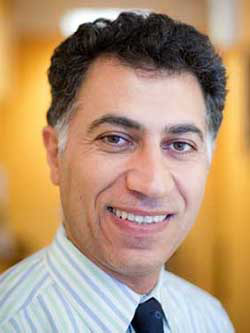 Hospital Affiliations
Kingsbrook Jewish Medical Center
The Brookdale University Hospital and Medical Center
Board Certifications
American Board of Podiatric Surgery
Professional Memberships
New York State Podiatric Medical Associtation
Awards and Publications
Gait Abnormalities in Parkinson's Disease, Podiatric Medical Review, NYCPM, 1998
Contemporary Approaches to Foot and Ankle Pathology, 2000
Languages Spoken
English
Spanish
Hebrew
Farsi
Yiddish
Dr. Luz Estrada-Gonzalez, DPM
Education
New York College of Podiatric Medicine, New York, NY.
Surgical Residency Program – July 1992 – June 1993
New York College of Podiatric Medicine, New York, NY.
Primary Care Residency Program – July 1991 – June 1992
New York College of Podiatric Medicine, New York, NY. September 1987 – May 1991
Board Certifications
Podiatric Surgery and Primary Care
Awards and Publications
Biomechanical Management of Children and Adolescents with Down Syndrome, JAPMA March 1991 M.Caselli , E. Cohen Sobel, J. Thompson, J. Adler, L. Gonzalez
Amazing doctor. I came in with foot pain and this doctor solved it right away. The doctor very caring and professional. The front desk was very kind and respectful.
They treat my family and I very good. I came in with an issue to my toe nail and the doctor solved my pain!!!
The staff of Metropolitan Foot Care is very professional and caring. I had a really bad pain in my foot and they took good care of me. All the doctors are amazing
Office is at a great location, so easy to get to and wait time was so short! Staff working at the front desk are so friendly and helpful! Will definitly go back.
They have the most sweetest girls who work at the front desk and they have the best Foot Doctor in BROOKLYN… Dr. Rabiei is very knowledgeable and is top of everything and he is very professional.
I went with my aunt for her foot to be taken care of and the girls in the front are so helpful. I felt comfortable asking questions if I had to. Very professional place and great front staff.
This is the best podiatry office in Brooklyn. You come in for something and the doctor is efficient professional and makes you feel comfortable from start to finish and leaves no stone unturned. All my issues were solved and questions were answered. The best service I have encountered this far.
Everything in this office is nice and fast. The front desk is attentive and the doctor is very friendly and helpful.
They were able to squeeze in my sister into the schedule last week and we were very surprised how fast they work in this office. It was a great experience.